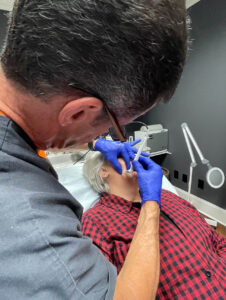 Debbie Russell Aesthetics and Dr. Jack Anderson are proud to introduce a revolutionary Cosmetic Breakthrough – Agnes RF!
Agnes RF is a non-surgical radiofrequency device that treats eye bags without having to go under the knife! It also tightens and removes fat from the neck and jowl area. There is no other device that can safely and non-invasively treat under eye bags as well as sculpt the neck and jowl area.
Agnes RF offers:
Unmatched precision targeting
Safe & predictable technology for all skin types
Minimal downtime, no incision
Long lasting results
Agnes RF is indicated by the FDA for use in dermatologic and general surgical   procedures for electrocoagulation and hemostasis.
Developed by Dr. Gun Young Ahn, a Korean dermatologist, Agnes uses the stable and effective technology of radiofrequency to specifically target fatty tissue at a variety of depths. The depth of the needle has been precisely designed to target the specific structure.
Which Conditions Can Be Treated?
Agnes RF offers beneficial treatments by using a tissue specific needle to treat fat under the chin, eyes, jowls, and along the jawline with very little downtime.
How Are Treatments Done?
The number of Agnes RF procedures depend on targeted tissue. Many treatments can be performed with only numbing cream applied 20 minutes before the procedure.  The treatment is relatively painless. In the case of eye bag treatments and deeper treatments, local anesthetic injections may be used in addition to the numbing cream.  The appropriate needle is inserted into the wrinkle or fat pad and the machine is triggered with a precise number of pulses depending on the area being treated.
After Care Deep Lines And Eye Bags
Immediately after the procedure for eye bags and deep wrinkles, the surface of the skin will be pink and sensitive for 3-10 days depending on the depth. Some bruising and swelling are also common. Ice may be applied every half hour to reduce discomfort and minimize swelling.
How Long Does It Take For Improvement?
For deep wrinkles and eye bags, about 1-2 weeks after you have mostly recovered.  During the first few days the area may actually look worse than it did before the procedure, which is normal. Most of the benefit appears over the coming months as new collagen is deposited under the skin and the skin begins to remodel its structure. For the treatment of eye bags, it will take 2-6 months for the fat cells to be removed by the body's macrophages.
How Many Treatments Will I Need?
Benefits from a single treatment may be permanent but this does not mean that you can treat everything in a single treatment. 2 or 3 treatments may be needed to get the best result.  Further treatments should be 3 to 6 months after the initial treatment.  Results vary based on individual circumstances.