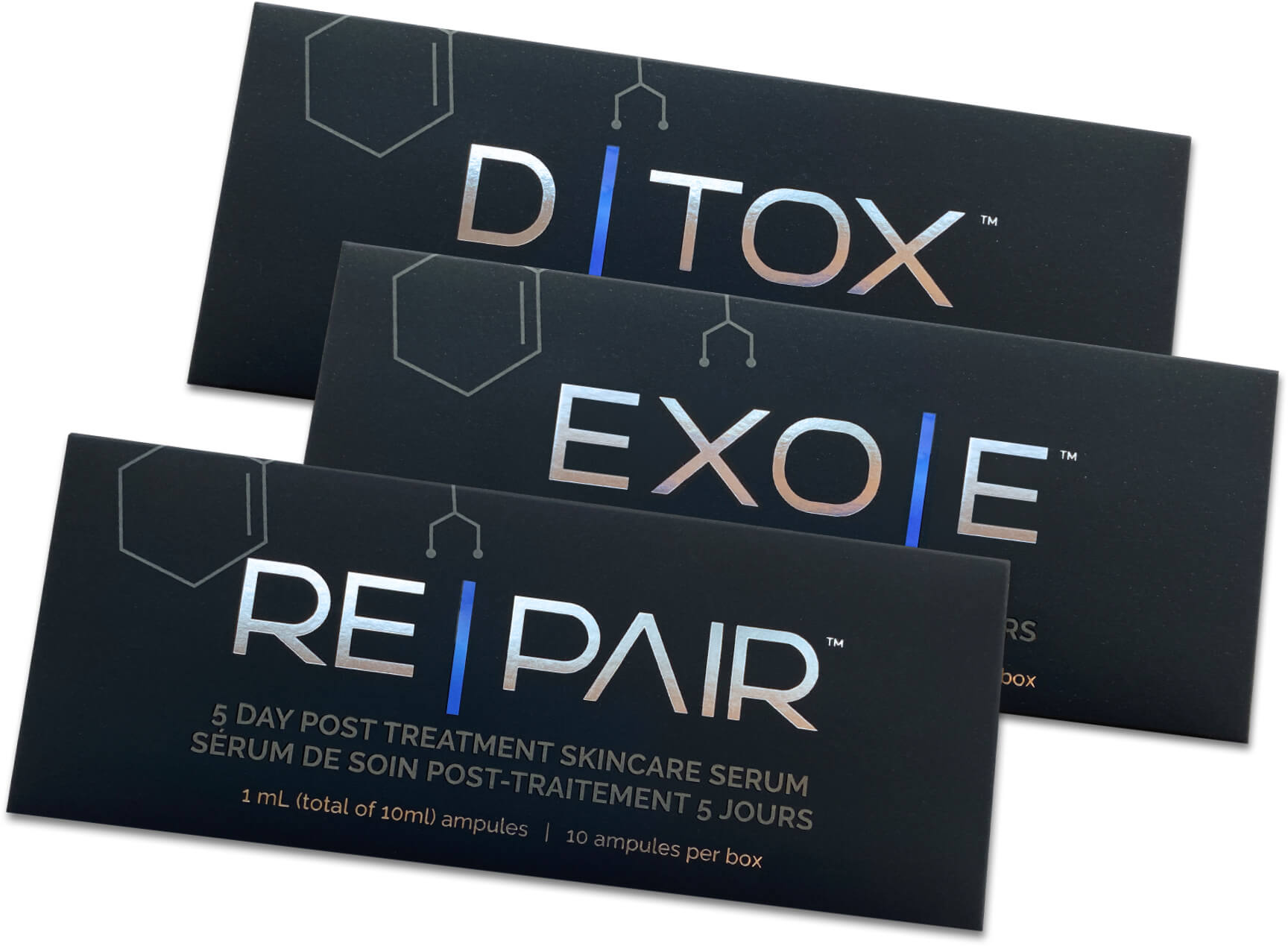 Plant Stem Cell Technology
EXO|E Exosome Skin Revitalizing Complex is based on a patent-pending biomimetic formula that helps ensure perfect compatibility with your skin. The treatment protocol includes D|TOX, EXO|E, and RE|PAIR to be applied over an 11-day regiment for in office and at home use. This plant stem cell technology enhances results and speed up desired outcomes for an elevated patient experience.
A complete and perfectly formulated set of active naturally occurring plant stem cell secretory factors: exosomes, liposomes, peptides, and anti-inflammatory factors. EXO|E is a three-step process. This system is chemical-free, water-based, and made in the USA. Making it one of the most prized recent skincare lines available for anti-aging and common skin conditions. You, as our patient, will appreciate less downtime and enhanced results enabling us to do more aggressive treatments minimizing social downtime while optimizing procedure results.
D|TOX
D|TOX helps hydrate and prep your skin for your upcoming aesthetic treatment.
EXO|E
EXO|E is a concentrated loading dose of stem cell factors, including exosomes, liposomes, growth factors, anti-inflammatory factors, VegF and over 2,000 additional factors per application, leading to targeted results and desired outcomes.
RE|PAIR
RE|PAIR reinforces the work of EXO|E with ten additional applications of exosomes, liposomes, and the full complement of stem cell factors found in nature's healing processes.
How EXO|E Exosome Skin Revitalizing Complex Therapy Works
This is an 11-day treatment protocol with 3 separate serum treatments:
D|TOX
Use twice daily for five days to hydrate the skin up to 10x for optimum treatment results.
EXO|E
EXO|E serum works synergistically with any in-office treatment to optimize immediate and visible results pre and post-treatment.
RE|PAIR
RE|PAIR serum is used twice daily for 5 days post-treatment, enhancing comfort and shortening downtime.
How physicians are using the EXO|E Skin Revitalizing Complex:
To Prepare Skin Pre-Procedure For Services Like RF Microneedling, Microneedling, Resurfacing, Semi-Ablative, and Other Aesthetic Treatments
To Enhance Treatment Outcomes To Optimize Patient Results
With Or Without A Treatment For Dramatically Improved Youthful Appearance